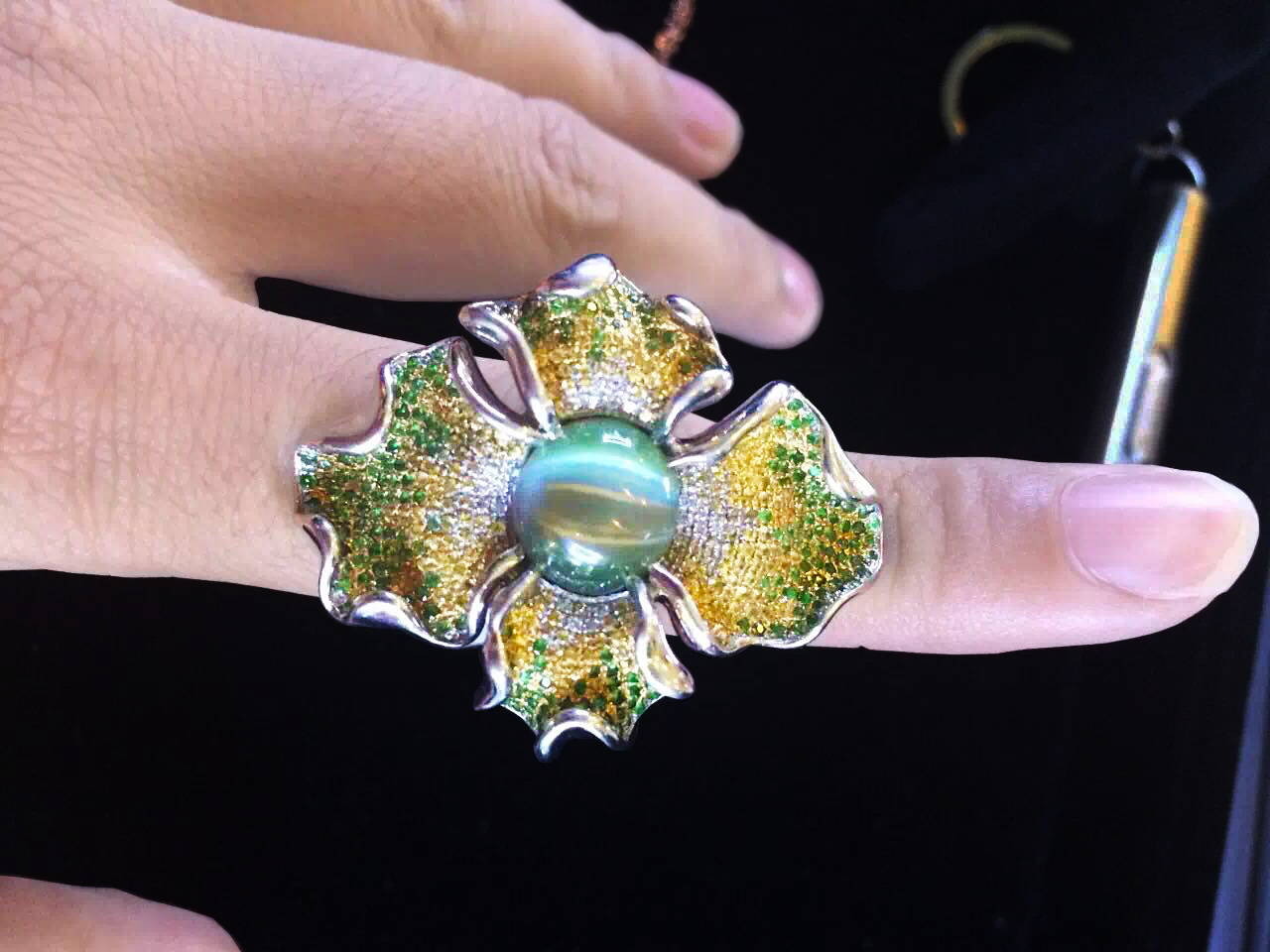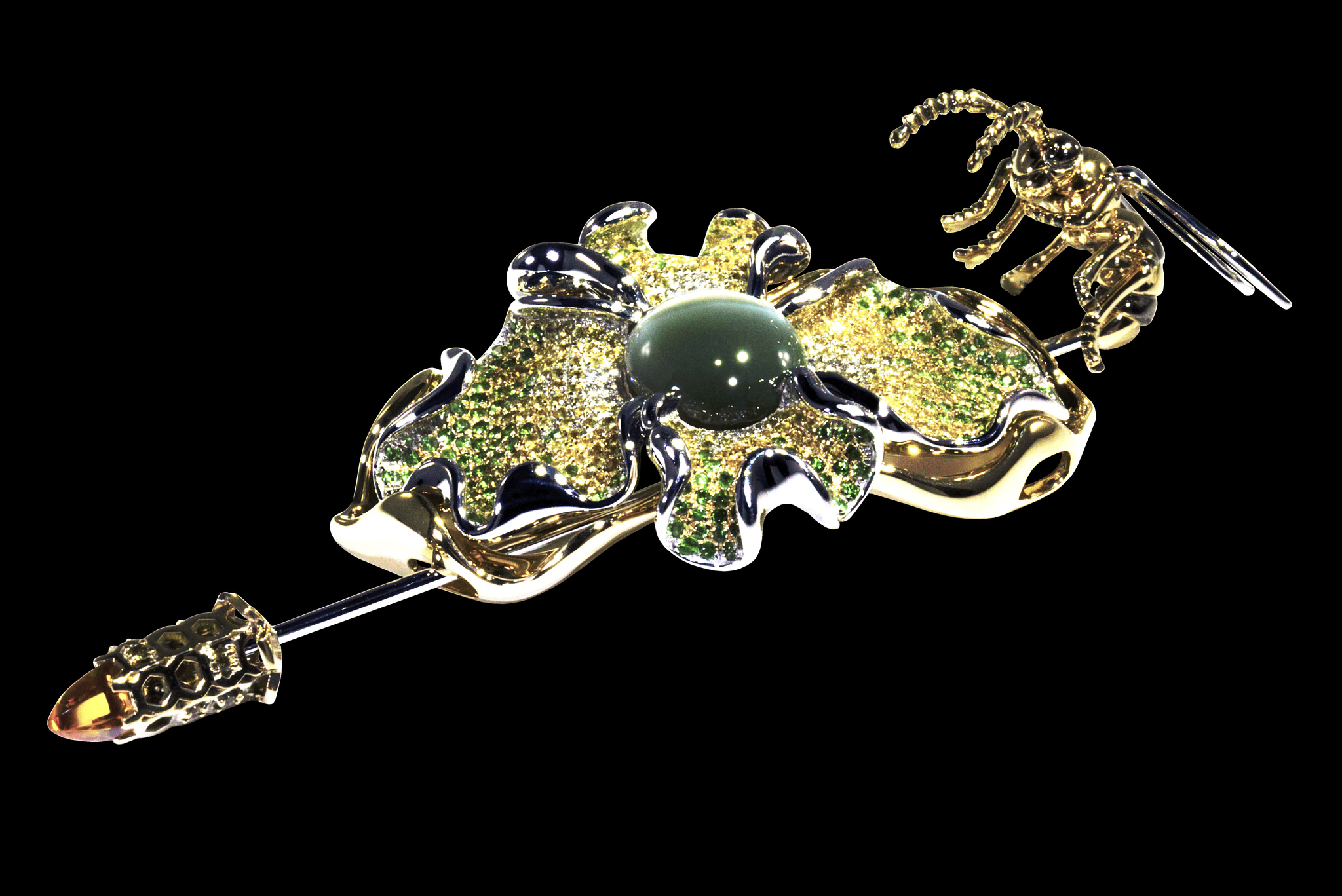 18K Yellow and White Gold and Platinum 950
6.98 Carat Slightly Color Change Chrysoberyl Cat's Eyes

Custom hexagonal bullet cut Citrine
Three different shades of Tsavorite garnets, three different shapes of Yellow Sapphires,
Diamonds
A most unique piece; one of a kind! Very versatile as it could be worn as a pendant, a brooch or a ring. The center stone is a unique very well cut chrysoberyl cat`s eye
(its low profile and flat bottom made it so that it looks big for its weight and also made it possible to integrate in this kind of design)
even exhibits a slight color change from green to a slightly brownish-red.
The petals of the flower were made out of three different parts.
First, the center and the outside edge were made out of platinum 950, second, the inside of the petals themselves were independent plates of 18K yellow,
third, what is also used as the shank for the ring mode is made out 18K yellow gold and can open and end up
on the surrounding of the two main petals, adding a dash of yellow color on the outside of the piece when used either as a pendant or as a brooch.
The marriage of the platinum 950 and the 18K yellow gold in the petals have been particularly challenging during
the polishing process as platinum wears off much slower than 18K yellow gold.
A considerable amount of time was also spent to ensure a nice and harmonious layout of the mêlées to perfectly
match all the different shades of tsavorite garnets and yellow sapphires with the diamonds.
The concept of the bee using its dart for the piece to be used in brooch mode is a flash that I had at the moment that the piece was almost completed.
The bee measured less than 2 cm, was made out of eleven separate pieces using both yellow and white gold with some areas plated in white and black rhodium.
Particular care in detail was even used for the design and making of the cliquet, as it followed the theme of the relationship between the bee and the flower.
The tip is a custom made hexagonal bullet cut citrine, and along with the small yellow sapphires set in some of the alveoli are meant to symbolize honey.
The whole piece was 100% made by hand at the time when I was still not using any 3D technology.

If you are inspired by this design,
please contact me to discuss your bespoke project!
YVES LEMAY: ARMORER, JEWELER, TEACHER
I was born in a country of icy winters and warm-hearted people, and my passion for fine armors brought me to the Montréal school of jewelry in which I started practicing techniques that were meant to make it possible to design and create some of the most intricate and beautiful armors in the world.
During an internship in the best and most respected jewelry company in Canada, Henry Birks & Sons, I got noticed by then chef d'atelier Monsieur Alain Marcel for my sure hands and raw talent.
After being employed as a polisher by Birks, I opened my fine jewelry atelier in vibrant Shanghai, where I made hundreds of clients' engagement and wedding jewelry among others and consulted with some of the most respected companies in the world of luxury, like Piaget.
In 2009 I also started teaching the craft of designing and creating jewelry, taking my students to a professional level. As for today, my dream of fine armor design and creations still lives on…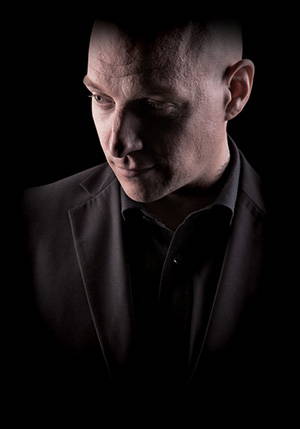 I am committed not only to design, produce and sell jewelry but also
to educate clients and jewelry enthusiasts. Feel free to consult the
free literature on our website.
Why choose me as your jewelry designer?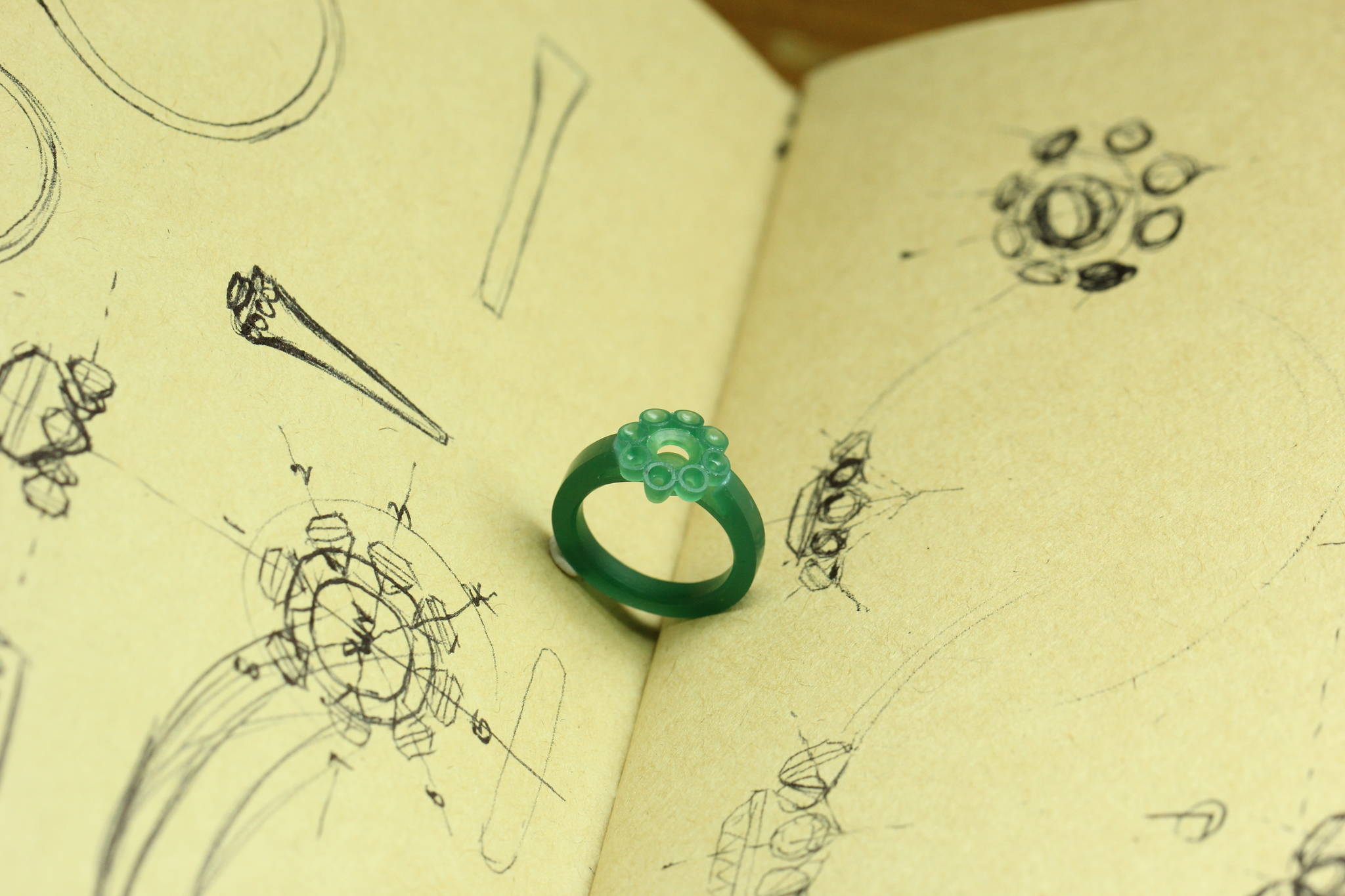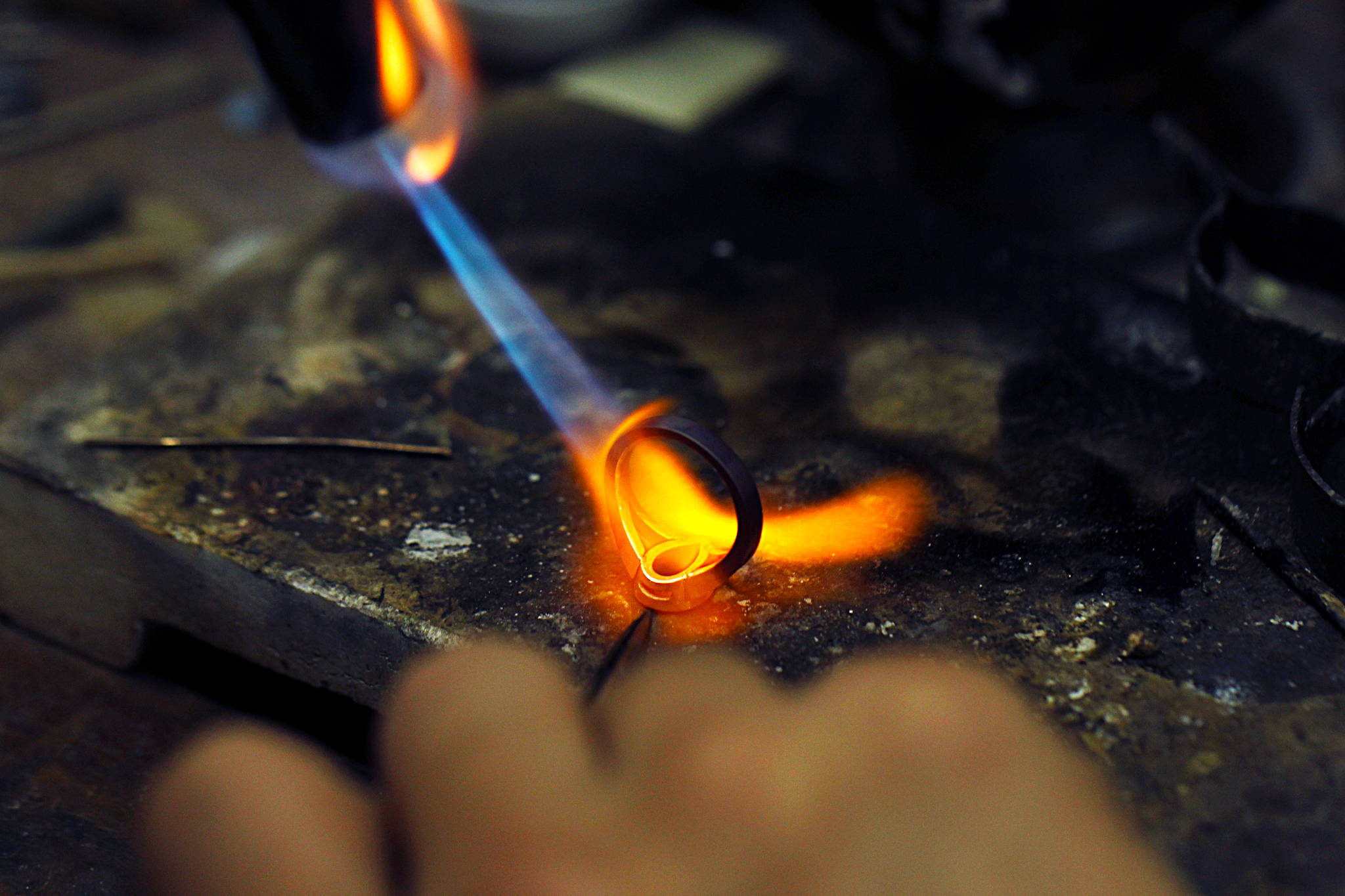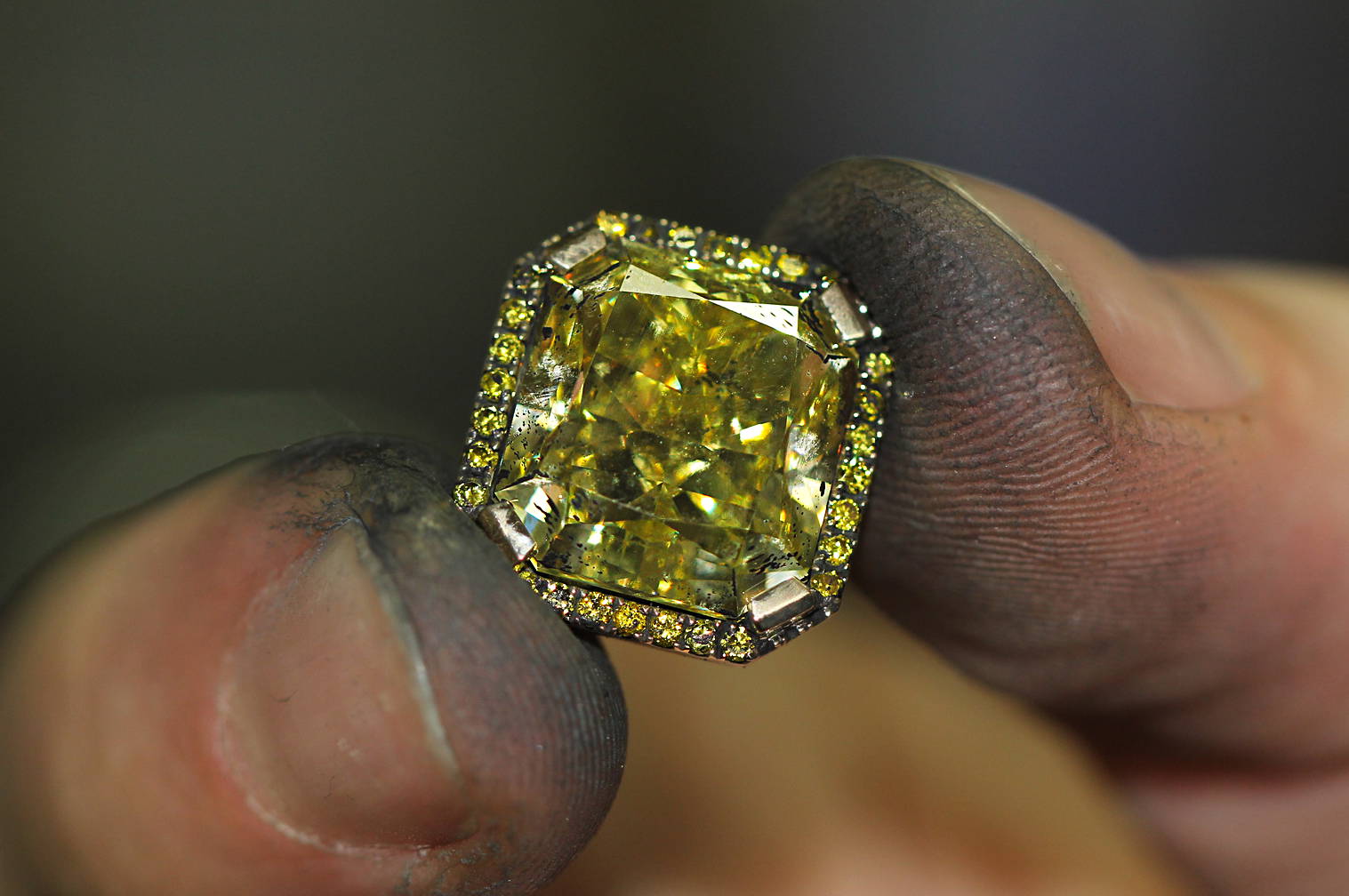 20+ years of experience making bespoke jewelry

Honed jewelry-making techniques and later consulted with famous international jewelry brands such as Piaget, Birks, etc.

Great value for your budget as I am based in Asia for more than 15 years and have direct access to gems and gemstones producers


Individual approach to each customer